Masoneilan and Consolidated process control and pressure relief valve solutions
With GE's ValvFAST program, the valves you need will be ready when you need them. Time is critical when it comes to replacing valves and valve components. We know that you need the right valve, on time, to reduce downtime and keep operations running smoothly. That's why we developed the ValvFAST program. Through a unique, new modular stock approach, GE's certified ValvFAST channel associates can quickly configure valves in their shops, rather than waiting for replacement valves from the factory. With the ValvFAST program, you get the valves you need in as little as 24 hours instead of days. The ValvFAST program only applies to certain valves identified on the ValvFAST website and is subject to availability.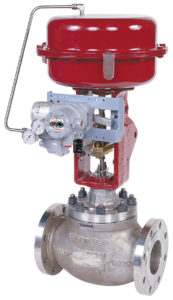 Faster Valve Delivery with ValvFAST
GE's ValvFAST program enables your local Masoneilan and Consolidated valve supplier to respond rapidly to your needs. Certified ValvFAST channel associates near you help ensure that the Masoneilan and Consolidated valves you need will be on the shelf and waiting—so you can prepare for the unexpected before it happens. Get the valve you need in as little as 24 hours instead of weeks. Improved uptime and reduced downtime add up to bottom-line savings for your business.
ValvFAST Works On Your Schedule
This innovative program enables our certified channel associates to configure valves using modular kits. With a selection of kits, certified ValvFAST channel associates can quickly configure a custom valve on site instead of waiting for the factory to deliver a new valve. This means your urgent needs can often be fulfilled in as little as 24 hours of your request.
Certified ValvFAST Channel Associates Deliver Value
• On-time delivery - custom, made-to-order valves can be ready in as little as 24 hours.
• Reduced downtime - fast delivery times help avoid costly downtime.
• Trusted quality - the valves are all built with Masoneilan and Consolidated valve components.
• The right valve – the component kit can be configured into most frequently demanded valves
What Valves Are Available through ValvFAST?
Both Masoneilan control valves and Consolidated pressure relief valves are available in the ValvFAST program. Available Masoneilan valve solutions from GE include the Camflex II series rotary control valve, and the 21000, 41000 series reciprocating control valves. Consolidated valve offerings from GE include:
• 1900, 19000, 1982 series safety relief valves
• Pilot operated safety relief valves
• 1540, 1511, 1811 series safety valves
Check with your local certified ValvFAST channel associate to determine just what additional valves are available in the program.
High Quality Products, Just Quicker
Our certified ValvFAST channel associates perform rigorous testing and quality control processes, including 17 separate quality checks, to ensure that the products you receive meet GE's standards. The only difference between factory-provided valves and valves offered by certified ValvFAST channel associates is faster delivery times. You get the valves you need, when you need them—faster than before.
How To Get Started
To start receiving the benefits of faster response through the ValvFAST program, contact a certified ValvFAST channel associate near you. You'll find certified ValvFAST channel associates located across the globe.