The ROTAMASS Total Insight is a new, tiered Coriolis flow meter series that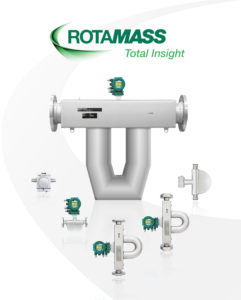 offers many enhancements over our current ROTAMASS 3 series.
Yokogawa's new Coriolis mass flow meters feature six dedicated sensor lines and two modular transmitters to help configure the best and most suitable solution for any user requirement. The Sensor lines have been specialized to meet different requirements, such as high accuracy or lowest pressure loss; or application requirements such as high pressure and high temperature. The Modular Transmitter concept, with a universal power supply, informs the user of required re-calibrations and allows expansion of functions after installation, which helps to future proof your investment. The latest products feature new "driving power management" system combined with a new 'Ex concepts' further improving handling of two phase flow and high gas content in hazardous applications.
ROTAMASS TI adds to this a unique, fully connected philosophy of product life cycle support. This starts by bringing together innovative and superior functions such as;
• Online expert guides and a built in configuration wizard
• Process Guard, which provides full process control and monitoring
• Maintenance Manager, which offers remote service capabilities and a total health check that includes the patented 'Tube Health Check' for complete meter verification, saving unnecessary maintenance costs.
• The new Event Management functionality enables data logging and monitoring, triggered by alarms (events) or manually set points, and can even record data prior to the event for root cause analysis. All data can be stored on a micro SD card for easy data transfer and data mobility
By introducing unified product life cycle support, ROTAMASS Total Insight will simplify configuration and secure effective operation. It will also help customers with everything from eliminating the high cost of unnecessary recalibration and maintenance to expanding the functionality of installed Coriolis meters.